Today we are going to share with you some 100% working Free TezFiles Premium Accounts Login ID & Password 2023 that actually works.
In today's digital age, where information and content are at the forefront of our lives, access to a vast array of online resources has become more essential than ever.
As users, we constantly seek avenues to explore, download, and share files seamlessly, but often encounter barriers such as limited speeds, waiting times, and restricted access.
Enter TezFiles, a leading file-hosting platform that offers an unparalleled user experience.
While TezFiles provides remarkable features and services to its users, the true potential lies in unlocking the premium account benefits that redefine the way we interact with online file sharing.
Below we have created a working list of Free TezFiles Premium Accounts that you can use to store your files online with unlimited storage.
Latest Free Tezfiles Premium Accounts (Updated – June 17, 2023)
| | |
| --- | --- |
| Email | Password |
| mwmerrell586@yahoo.com | ROxie1980 |
| amber8564@gmail.com | $AK0309d |
| kinamas004@hotmail.com | Avian18$ |
| bedstuy9956@yahoo.com | 4hhsjjh! |
| negro77ul@gmail.com | 3qpQ&1ETM |
| mattwentz99@gmail.com | S75GvXQCf4 |
| suplo85476@yahoo.com | Will2001! |
| raiford049@gmail.com | Monday66$ |
| lgc7070@gmail.com | T7GEMcdbVC |
| badgaw236t@yahoo.com | tRMJ3xsTjX |
| kwelch1923@gmail.com | wTsWB8Wq |
| coryj08a9@gmail.com | KLvdcBkFX3 |
Note: The Above TezFiles Pro Accounts are shared by users. If any account is not working, it means someone has changed the password. You can check more premium accounts from the below list.
What is TezFiles?
TezFiles is a popular file-hosting platform that allows users to store, share, and access various types of files and content. It provides a secure and convenient environment for individuals and businesses to upload, download, and manage their files online.
TezFiles offers a wide range of features and services that make file sharing and storage efficient and hassle-free. Users can upload files of different formats, including documents, videos, images, and more, and store them securely on the TezFiles servers. These files can then be accessed from anywhere, at any time, as long as there is an internet connection.
One of the key advantages of TezFiles is its user-friendly interface, which simplifies the process of managing files. Users can easily organize their files into folders, search for specific files, and share them with others through generated links.
It also provides options for password protection and expiration dates on shared files, adding an extra layer of security and control.
TezFiles offers both free and premium account options. While free accounts provide basic features and limited storage space, premium accounts unlock a range of additional benefits. Tezfiles Premium account holders enjoy advantages such as faster download speeds, increased storage capacity, ad-free browsing, and priority customer support.
Benefits of TezFiles Premium Accounts
TezFiles Premium Accounts offer several remarkable benefits that elevate the user experience and provide unparalleled convenience.
Here are some key advantages of TezFiles Premium Accounts:
Unrestricted Access to Files and Content:
With a TezFiles Premium Account, you gain unrestricted access to a vast array of files and content hosted on the platform. Say goodbye to waiting times, download limits, and access restrictions. Enjoy the freedom to explore and download files without any hassle.
Blazing-Fast Download Speeds:
Speed is crucial when it comes to downloading files, and TezFiles Premium Accounts deliver exceptional download speeds. Experience lightning-fast transfers that save you valuable time and ensure a seamless user experience.
Enhanced User Interface:
Premium account holders are treated to an enhanced user interface that simplifies file management and navigation. Enjoy a clean and intuitive interface, making it effortless to organize, search, and share your files effectively.
Increased Storage Capacity:
TezFiles Premium Accounts come with generous storage space, allowing you to store and manage a substantial amount of files. Whether you need it for personal use or for business purposes, the expanded storage capacity ensures you have ample room for all your important files and documents.
Ad-Free Experience:
Tired of intrusive advertisements interrupting your file-sharing activities? Premium Accounts provide an ad-free experience, allowing you to focus solely on your tasks without distractions.
Parallel Downloads and Multi-Threaded Downloads:
Premium account holders can take advantage of parallel and multi-threaded downloads, enabling you to download multiple files simultaneously. This feature boosts efficiency and allows for faster completion of multiple downloads.
Remote Uploads:
TezFiles Premium Accounts allow remote uploads, enabling you to transfer files from other websites or servers directly to your TezFiles account. This convenient feature saves time and effort by eliminating the need for manual downloads and uploads.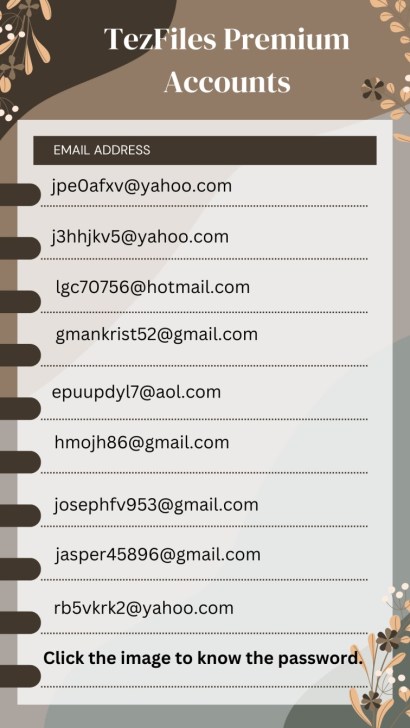 100% Working TezFiles Premium Accounts & Password 2023
| | |
| --- | --- |
| Email | Password |
| jpe0afxv@yahoo.com | 1290111b |
| j3hhjkv5@yahoo.com | Chivas101! |
| lgc70756@hotmail.com | $AK03096d |
| gmankrist52@gmail.com | Abssidey06 |
| epuupdyl7@aol.com | Bigboy05 |
| hmojh86@gmail.com | 4EKPGqveZ2 |
| josephfv953@gmail.com | 2eRsYaUwY3 |
| jasper45896@gmail.com | $Ilverstein21 |
| urruhadnall876@gmail.com | As6wCxwqc2 |
| rb5vkrk2@yahoo.com | gYQj8YhKEM |
| iw9abqeg@gmail.com | 1285Alise! |
| e2e0lpm1@gmail.com | rwW3gDyNrH |
| d8v98d@yahoo.com | 5890leeland |
| dhruvgoyal.569@gmail.com | LnqFcdu6M6 |
| kinamas004@hotmail.com | Jaden05!! |
| john_kbala6@live.com | 7kwCD3hrHL |
| negro77ul@gmail.com | gs39puNG56 |
| staceyduren1999@gmail.com | Damien98 |
| suplo85476@yahoo.com | RCNgW7Yfu5 |
| bbwfyj6@gmail.com | 5hnn4xvs |
| jpipdm@gmail.com | 8e828hwMWH |
TezFiles Unlimited Storage Premium Account Details
| | |
| --- | --- |
| Email | Password |
| Franklinelise.3@aol.com | SJQJx3713R |
| alyza_bowen62@gmail.com | ezJsQ2Khhu |
| hector.f926@hotmail.com | 83A4DbqGzZ |
| mgvdqhy402@yahoo.com | DYg3kX6989 |
| kphz1z3q@gmail.com | 94htE6WRTV |
| etienpa348@gmail.com | KXFVNrH7Sc |
| irishsvt32@yahoo.com | yex5RRbBnn |
| imfiqj046@gmail.com | UMdjWPcrL7 |
| pdmq4652@gmail.com | jR8kS7eDKP |
| 68udldx3b3@yahoo.com | wSG1qj3Xth |
| darkknight296@gmail.com | uE7yWG6YeV |
| drake5805@icloud.com | ng76vLFp6B |
That's all guys!! The above table contains the genuine TezFiles Premium Account Username & Password. You can log in to TezFiles Premium by using the above email addresses and passwords.
If you face any error while signing in, it means someone has changed the password or the account has been deleted by the officials. There are also chances that the subscription of that account has expired.
If that's the case, you can use other TezFiles Free accounts that will definitely work and you can enjoy the premium features with unlimited storage, faster uploads, etc for free.
However, we try to update these accounts frequently, so if you want to get an account, make sure to bookmark this page and visit again later.
Frequently Asked Questions (FAQs)
Q: What is a TezFiles Premium Account?
A: A TezFiles Premium Account is a subscription-based account that provides users with enhanced features and benefits on the TezFiles file-hosting platform. It offers advantages such as faster download speeds, increased storage capacity, an ad-free experience, priority customer support, and more.
Q: How do I acquire a TezFiles Premium Account?
A: To obtain a TezFiles Premium Account, you can typically purchase a subscription directly from the TezFiles website. They offer various subscription plans with different durations and pricing options. Once you have chosen a plan and made the payment, your account will be upgraded to premium status.
Q: What are the benefits of a TezFiles Premium Account?
A: TezFiles Premium Account holders enjoy benefits such as unrestricted access to files and content, faster download speeds, an enhanced user interface, increased storage capacity, ad-free browsing, priority customer support, and other premium features that enhance the file-sharing experience.
Q: Can I use a TezFiles Premium Account on multiple devices?
A: TezFiles Premium Accounts usually allow simultaneous login from multiple devices. However, there may be limitations depending on the specific subscription plan you choose. It is advisable to check the terms and conditions or contact TezFiles support for detailed information regarding the number of allowed simultaneous logins.
Q: Is it possible to upgrade from a free TezFiles account to a Premium Account?
A: Yes, you can upgrade from a free TezFiles account to a Premium Account by purchasing a subscription plan. The upgrade process typically involves selecting a plan, making the payment, and your account will be upgraded to a premium status with the associated benefits.
Related: