Best Video Cutter Software:Whether you're working on your YouTube video or you're a videographer busy editing a documentary, in all cases, you may need to split the video into smaller clips because you'll need to merge them later to create a new video. Here's a list of the best video trimmers in 2023 that ensure high quality while maintaining the integrity of your intended video.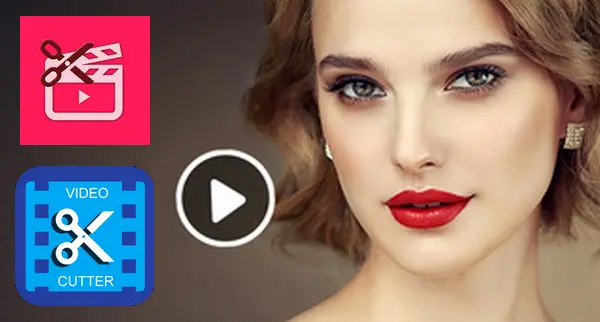 5 Best Video Cutter Software 2023
Many free video splitters often result in reduced video quality and data loss. So, how can one find the best video splitter for splitting large video files? Is it possible to trim videos without sacrificing data?
Certainly, there are programs that are more efficient than others in this regard. We will now present five programs that are considered the best for splitting and distributing videos, along with additional features that enhance the visual quality of your content.
1- Bandicut Program
If you're looking for a list of the best free video clippers in 2023, Bandicut Video Splitter is worth a try. Despite its simplicity, it is capable of professionally splitting and merging videos.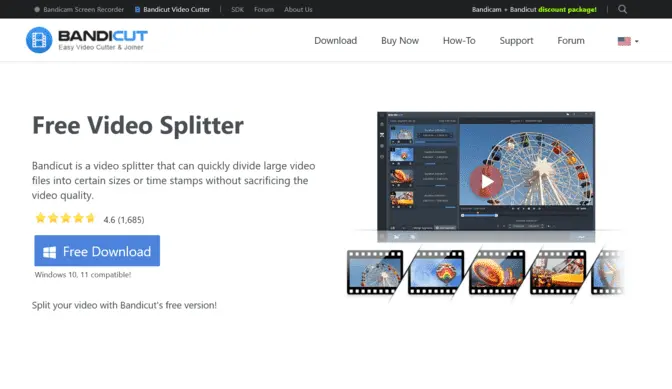 The most important features of the program are:
Bandicut boasts a user-friendly interface suitable for trimming video endings, splitting videos, and extracting MP3 from videos without compromising their quality.
It allows precise video trimming without the need for re-encoding, thus preserving the original video quality.
Bandicut enables you to merge multiple videos into one while maintaining the original quality of each video.
The program facilitates extracting audio from videos and saving it in a separate audio format.
Bandicut is known for its speed and efficiency, allowing for quick video processing.

2- Best Video Cutting Software 2023: Wondershare Filmora
With advanced features comparable to other comprehensive video editing software, Wondershare Filmora is an excellent option for video splitting in your next project. It is a modern, user-friendly, and powerful video editor for Windows.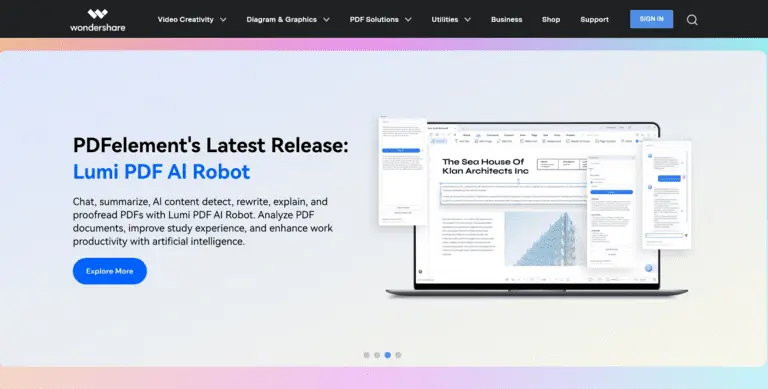 The most notable features of the program are as follows:
One of its unique features is the instant cutting tool, which effortlessly splits 4K video footage and action videos without the need for re-encoding. Simply drag the slider to make cuts without losing any quality.
Another feature is the Trimmer, which allows you to create a video using multiple clips, remove unnecessary parts, or extract specific segments from a video.
Filmora enables you to combine multiple videos into a single video while preserving the original quality of each clip.
Wondershare Filmora also allows you to split the audio track of a video into multiple parts and edit them individually. This feature is particularly useful for adjusting background music or video sound effects.
Filmora supports a wide range of video formats, allowing you to work with videos from various sources.
While the software is not completely free, it offers a free trial version that allows you to explore all the features for a limited time. However, the trial version has limitations, such as a watermark on exported videos and a maximum duration of 10 minutes for video projects.
Download link of Wondershare Filmora for Windows

3- VEED Program
Another tool that ranks among the best video trimmers in 2023 is VEED. Not only is it an online video editor, but it also offers great additional options such as adding captions, text, filters, and emojis. It provides a comprehensive range of features for all your video editing needs.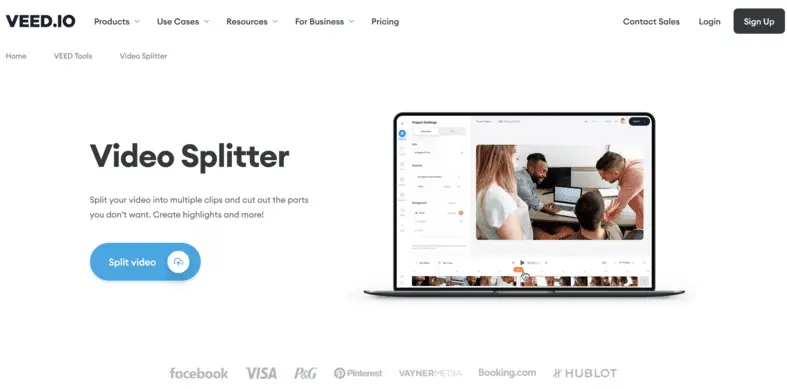 The most noteworthy features of the program are as follows:
VEED is an online program, meaning you can use it directly without the need for downloading or installing any software.
You can easily add sound effects and music to your videos using VEED.
The program is user-friendly, and it allows you to quickly share your edited work on various social networks.
VEED offers a free version that allows editing videos of up to 10 minutes in length and 50MB in size. However, it also provides three subscription plans: Basic, Professional, and Corporate.
With VEED's screen recording feature, you can effortlessly capture videos of your computer screen, including audio and webcam footage.
VEED simplifies the process of adding subtitles and captions to your videos. You can import external subtitle files or utilize the automatic transcription tool to generate subtitles from your own audio.
VEED allows you to export your edited videos in different formats and resolutions, including MP4, GIF, and MOV. You can also customize the video quality, speed, and output resolution according to your preferences.
4- Best Video Cutter Software 2023: Typito
Typito is another program that excels at efficiently cutting videos. It operates entirely online, eliminating the need to install any software on your system. It is an ideal solution for splitting large videos into smaller segments and then merging and exporting them as a single video file.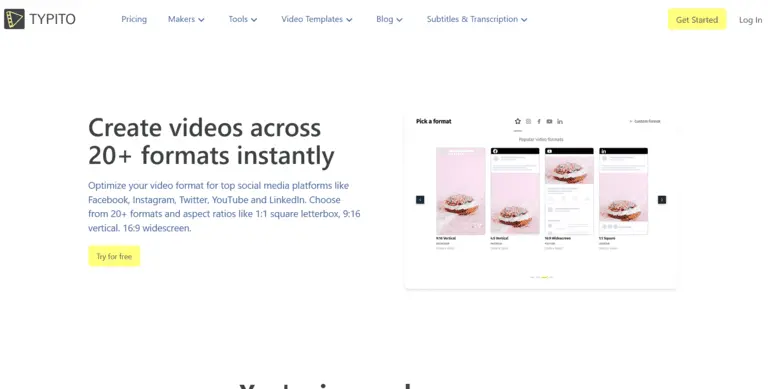 The most notable features of the program are as follows:
Typito is recognized as one of the best video trimmers in 2023, making it a perfect tool for working on videos such as trailers, commercials, and storytelling, all without compromising the video quality.
In addition, Typito allows you to create professional videos using animations, music, and subtitles.
You can export the fragmented videos in formats that are compatible with various social media platforms.
The program is not entirely free, as the free version limits video editing to 5 minutes, and completed clips will contain a watermark. However, if you require more advanced features, you can opt for one of its subscription plans.
Typito enables you to export your videos in high quality and different formats, as well as customize the desired video resolution.
With its intuitive interface and pre-designed video templates, Typito makes it easy to create visually appealing and impactful video content, even for those with limited video editing experience.

5- Best Video Cutter Software 2023: Movavi Video Editor
When it comes to video trimming, Movavi Video Editor stands out as the top choice due to its comprehensive features that enable professional results. It goes beyond being just a video trimming tool, as it encompasses all the necessary tools for integrated video editing.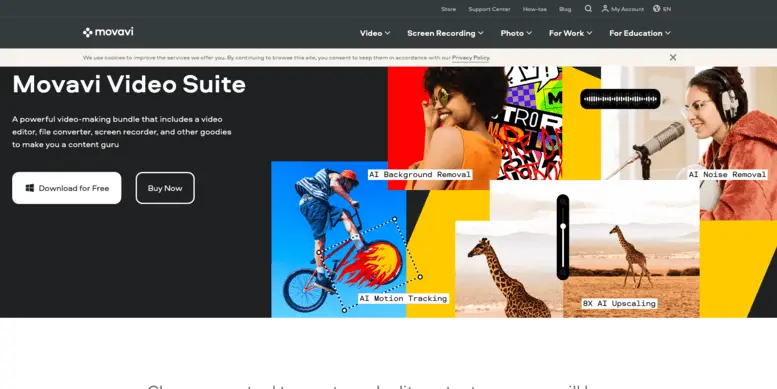 The most noteworthy features of the program are as follows:
Its user-friendly interface ensures a simple and hassle-free experience for general users.
Movavi Video Editor offers wide format support, allowing you to convert and trim videos of any type and seamlessly combine them to create professional videos.
You can easily add audio tracks to your videos, adjust the volume, apply sound effects, and even incorporate voiceovers.
The program provides a variety of special effects, including slow motion, acceleration, motion blur, and image stabilization. It also includes a video mirroring feature that adds a professional touch to your projects.
Movavi Video Editor allows direct export to platforms like YouTube and Facebook, making it convenient for sharing your edited videos.
You can find the download link for Movavi Video Editor on their official website.
Download link of Movavi Video Editor
Conclusion:
This concludes our list of the best video trimming software options for 2023. Keep in mind that not all video splitters are suitable for every user, so it's important to choose one that meets your specific needs and budget. Good luck with splitting your video footage for your upcoming projects! You may also be interested in exploring other programs that can enhance your work, which you can find on the leading technology website that showcases powerful software.